I'd wanted to form a trio with Magdalena Geka and Thibaut Reznicek for many years. In chamber music, this is the ideal formation for each of the instruments. Placing such a group under the aegis of this name had a singular flavour.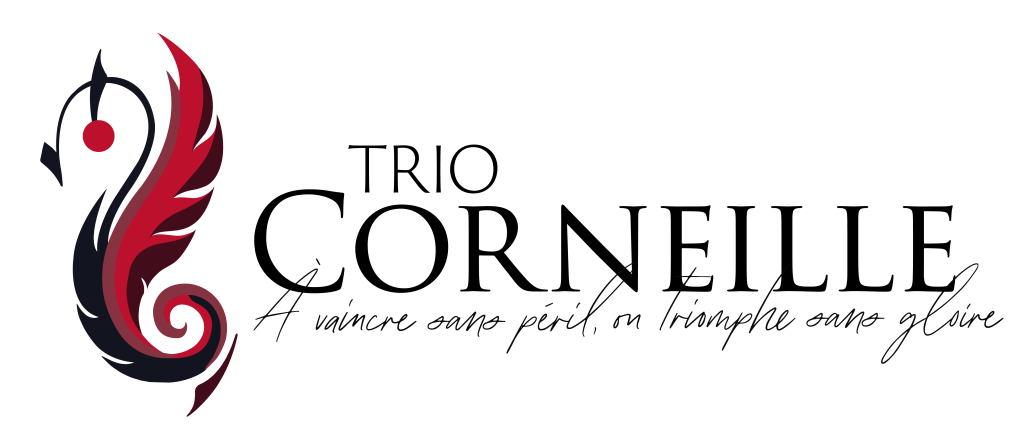 Violinist Magdalena Geka enjoys a busy and eclectic career and has performed in many prestigious European venues: Wigmore Hall and Southbank Centre in London, UK; Auditorium du Louvre in Paris, France; Verbier Festival, Switzerland or Kuhmo Festival in Finland. She is a winner of the Parkhouse Award in London, the International Marschner Competition in Germany and, most recently the Pro Musicis prize and the Académie des Beaux-Arts prize. Her first albums are to be released shortly – an album dedicated to the violin sonatas of the Latvian composer Maija Einfelde (Skani, November 2021), and "Sonatas and Rhapsodies" for violin and piano by Béla Bartók (Paraty, Spring 2022).
Ms.Geka has performed most of the major violin concerti with many orchestras in Latvia, France, Ukraine and Germany. She has been nominated twice for the Latvian Grand Music Award (Liela Muzikas balva). First in 2014 as the Young Artist of the Year, after her highly acclaimed debut with the Latvian National Symphony Orchestra, stepping in as a soloist on a short notice. And in 2020 for an Excellent Performance following a recital dedicated to Latvian music and organized by the Peteris Vasks Foundation.
As a member of the Trio Sora, she embarked upon a successful career, winning special prizes of the Aix-en-Provence, Verbier and Kuhmo Festivals and performing in most European countries as well as in New York and Australia to great acclaim. Ms.Geka has been invited to perform as a young artist at the prestigious Kuhmo Festival in Finland, Musique à Giverny Festival in France, and was part of the Newport Music Festival Young Professional Artists program in the USA. She was the founder and artistic director of chamber music festivals in Saulkrasti and Ventspils, Latvia, which give the opportunity for young Latvian musicians to return to their home country to perform. Currently she is a member of the Trio Carmine (with Anna Gagane – clarinet, and Lukas Loss – piano), as well as Quatuor Libra (with Josquin Otal – piano, Elia Cohen Weissert –cello and Hortense Fourrier – viola), and performs regularly with the pianists Kishin Nagai (duo Jalef) and Iveta Calite.
Ms. Geka performs regularly as the concertmaster of Orchestre Hexagone, Orchestre de Chambre Nouvelle Europe and Ensemble Appassionato, with acclaimed soloists, such as the singers Andrea Bocelli and Philippe Jaroussky. She was a member and guest concertmaster of the Kremerata Baltica chamber orchestra, working closely with Gidon Kremer, and a trainee at the Orchestre Philharmonique Radio France Academy in 2014 and 2015. Starting September 2021 she is the only participant of a unique concertmaster training course, a partnership between CNSMD of Lyon and Orchestre National d'Auvergne in France. She also enjoys performing contemporary music, having collaborated with such composers as Peteris Vasks, Platons Buravickis, Eric Tanguy, Camille Pépin, Santa Buss and Gabriel Sivak, and has to-date premiered around forty works for violin solo or in ensemble.
A native of Latvia, she moved to Paris, France in order to pursue her violin studies at the age of 16. Ms. Geka holds a Master's degree in both Violin and Chamber Music from the Paris National Conservatoire, as well as Artist Diplomas from both CNSM de Paris and the Queen Elisabeth Music Chapel in Belgium. Her mentors include Ebène and Artemis Quartets as well as Svetlin Roussev, Wolfgang Marschner and Philippe Graffin. Ms. Geka plays an Alessandro Gagliano 1734 violin generously loaned through the Anima Music Foundation, as well as a modern violin made by Philippe Mahu.
Grand Prix 2017 of the Académie Ravel, scholarship holder from the Societe Générale Sponsorship and laureate of the Royaumont Foundation, Thibaut Reznicek embodies the new generation of cellists. After studying latin and greek, he entered the Paris Conservatory where he studied with Marc Coppey, Christophe Coin and Bruno Cocset for the historical performance. He then followed an Artist Diploma with Giovanni Gnocchi at the Mozarteum Salzburg and studied with C.-P. La Marca at the Jaroussky Academy. Thibaut is also an Alumni of the American Conservatory of Fontainebleau. He teaches cello to the "Young Apprentices" of the Jaroussky Academy while assuming numerous solo concerts and various chamber music formations in France and abroad. He has collaborated with many ensembles and festivals (Diderot, La Chapelle Harmonique, Le Concert de la Loge, Les Siècles, Appassionato-Mathieu Herzog, Festival du Forez, Ambronay, Arbois, Allegro Vivo, Ravel, Musique à la Ferme…). Thibaut also gives Chamber Music Master Classes at Société Générale. Founder of the "Ctesibios" project, he published in 2017 his master thesis at the CNSMDP in which he compiled a catalog of the French repertoire for cello and organ. This catalog is available online on "Orgue en France". Thibaut is also an active researcher and published his own edition of a freshly discovered Boccherini cello sonata. He recently released his first solo album, almost entirely recorded in the open nature. Thibaut plays a cello by Castanieri (1745) from a private loan, a cello by Robert Brewer Young (2013), and a French XVIIIth century cello.