Odile Heimburger is a long-standing partner, and we form a close-knit duo offering traditional recitals, but who are also in the process of conceiving and developing a new kind of performance writing that will give rise to lively, embodied concerts, combining words, literature and theatre with singing and piano.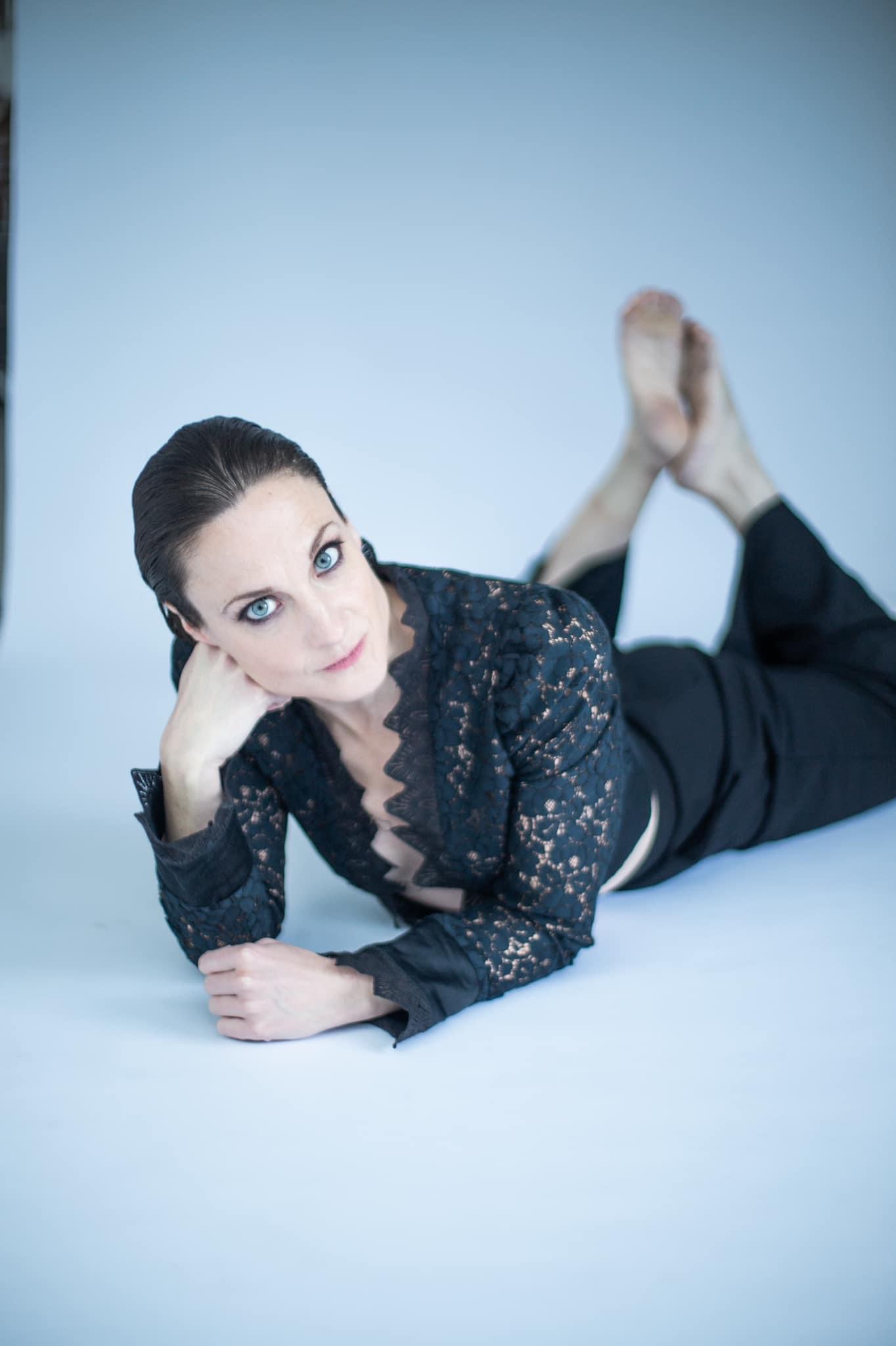 Odile was a violinist, holder of two 1st Prizes and a Bachelor's degree, when pianist Jeff Cohen noticed her voice during a chamber music masterclass and advised her to study singing.
Her coloratura, her effortless top notes and her musical personality quickly gained her a place at London's Royal College of Music to study voice and violin (2003), before she went of to the Guildhall School of Music and Drama (2007). There she trained with Yvonne Kenny, Philip Doghan and Sarah Walker, and was awarded a Master's degree in singing with outstanding marks. Later she prepared roles with Mady Mesplé, Annick Massis, Raul Gimenez in Barcelona, and Regina Werner Dietrich in Leipzig, among others.
She has established a threefold career as a soprano, a contemporary theatre performer, and a teacher with an interest in research.
Odile has won prizes at numerous international competitions (Canari opera prize with Gabriel Bacquier as president of the jury, 1st prize at the 2012 Marseille operetta competition, Alain Fondary audience prize, Enesco contemporary singing prize with Viorica Cortez as president of the jury, Vincenzo Bellini competition). She is at home in a broad Classical and Romantic repertoire for coloratura and lyric coloratura, which she sings with sparkle and consummate ease:
Handel's Cleopatra and Morgana, Mozart's Queen of the Night (her signature role), the eponymous heroine of Lucia di Lammermoor, Marie in Donizetti's Fille du Régiment, Amina in Bellini's Sonnambula, Olympia in Offenbach's Contes d'Hoffmann, Cunégonde in Bernstein's Candide, Zerbinetta in Strauss' Ariadne auf Naxos, as well as Lakmé, Juliette and Ophélie in Ambroise Thomas' Hamlet in the French repertoire. Her virtuosity as Queen of the Night and Cunégonde led to her being cast in international touring productions of Mozart l'Opéra Rock and Amadeus, in which she also played Konstanze.
Odile's "remarkable voice, endowed with wonderful projection and sensual top notes" (Forum Opera) was hailed by reviewers of the show A la Folie. This bravura vocal and theatrical performance of the most celebrated arias for coloratura soprano has been touring regularly since 2019 (Francophonies festival, Paris, London, Lucca, Perugia, Stuttgart, Barcelona, Strasbourg, Chaumont, Mulhouse…)
As an associate artist of the Mulhouse Symphony Orchestra, Odile appeared alongside cellist Gauthier Capuçon in the world premiere of Michel Tabachnik's Sumer, conducted by the composer at the Mulhouse Filature concert hall. Much noted for her skills as an actress and as a violinist, Odile is also passionate about contemporary theatre, which plays a major part in her artistic choices. She was thus cast as Estelle in the new play Je m'appelle Ismaël by Lazare, which premiered at the Théâtre National de Strasbourg, a cultural highlight for TV channel Arte, transferred to the Paris Théâtre de la Ville, then toured to national theatres across France.
With her gift for improvisation, composition and original creation, Odile is much in demand in the fields of world music, electronic and digital music; she also appeared on television in Mystère à l'Opéra alongside Mathilda May. She was also the voice of the motion picture Un illustre inconnu with Mathieu Kassovitz.
Besides Classical and Romantic opera as well as contemporary repertoire, Odile has performed a wide range of oratorios: Brahms' Requiem at Chartres Cathedral, Verdi's Requiem at the Strasbourg Zenith, Mozart's Requiem, Mass in C minor (1st soprano), Exultate Jubilate, Vesperæ solennes de confessore; as well as Bach's St Matthew Passion, Vivaldi's In Furore in Angers and Paris, Zelenka's Miserere at Strasbourg Cathedral, and Handel's Messiah in Montreal (2018).
In 2005, Odile taught voice and violin at the London Oratory School. This fascinating experience kindled her interest in passing on technique, approaches to interpretation, sharing, discovering new repertoire, both classical and modern. This led her on to other teaching experiences, both in France and internationally, at universities, schools or conservatoires (France, United Kingdom, China, Vietnam…). Regular classes, masterclasses for young professionals, workshops for children with autism, her varied experience means she is able to adapt to diverse types of learners. She has also taken part in research, creation and teaching projects on the connection between classical singing, voice, psychology, digital creation and neurosciences for the Musaïques workshop organised around the OMNI digital instrument, under the aegis of Cédric Villani (together with the Centre des Monuments Nationaux and the Paris Mairie).
In 2021, Odile performed the role of Die Freundin in the double bill Von Heute auf Morgen by Schoenberg / Les trois baisers du diable by Offenbach, at the Théâtre de l'Athénée in Paris. She also gave a recital around the figure of the French Woman, then a concert of virtuoso coloratura arias in Lille together with pianist Jacques Schab from the Opéra, as well as touring with a programme of Bach cantatas with organist Francis Jacob.
This autumn Odile, who is also a gifted actress, played the three heroines of Flaubert's "Trois Contes": Félicité, the wife of St Julian the Hospitaller, and Herodias, in a play premiered in Rouen, Flaubert Illuminé, directed by Carine Piazzi, alongside musicians Maud Lovett, Myriam Hetzel, Tess Joly, Oswald Sallaberger and actor Matthieu Montanier.
In the spring of 2022, Odile will appear with pianist Paul Montag in a Paris premiere performance. She will sing Romantic Lieder repertoire during a musical cruise on the Rhine, together with violinist Sophie Lemonnier-Wallez and pianist Paolo Rigutto. She will then be in Switzerland for concerts in homage to Pauline Viardot, with Lauriane Corneille on piano.
Finally, she will premiere a work for string quartet and voice by composer Karol Beffa.
Trained in the United Kingdom and in France, having done Khâgne at the Lycée Fénelon in Paris, Odile is a French national, fluent in English, and speaks and writes German and Italian.